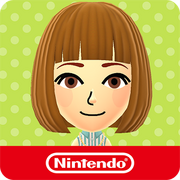 Miitomo is a mobile game produced by Nintendo and released for Android and iOS devices in March 2016. It was announced by Nintendo in October 2015, along with the announcement of My Nintendo and Nintendo Account. It is a social messaging app where you can learn more about your friends on your 3DS and Wii U Friend List. You can pre-register it.
Miifoto is a feature in Miitomo, just like AR Games on the 3DS. You can place your Miis on things and pictures and send it to social network sites. All though this has not been confirmed, Nintendo may give out warnings and bans to people who post suggestive images with their Mii to social media or the game.
Icon History
Edit
Miitomo launch trailer from 2016
Edit
NA - Think you know your friends? Guess again!
EU - How we'll do you really know your friends?
Release Dates
Edit
Japan 17th March 2016 Other Countries 31st March 2016